Carl Hibbs wrote:

It only shows for 'guests' if you are not logged on.

It links to supposedly similar subjects (similar word matching) on other forums sharing these servers.
It's a way for the hosts to generate more traffic; There should be no adult content....!

If there is then let me know (...the URL... )

I can switch it on for members too or I can switch it off altogether. Unless anyone objects I will leave it.

Unfortunatly Carl, the 'adult' sites do show up...
I noticed on the topic about the RailExpo2011 one of the 'similar' topics is called: "Trip ke betong ahad 19/6/2011". See picture below.
Hoping to perhaps see another nice modelrailroad site I followed the link and came (redirected?) on this:
http://gersang.ace.st/t610-trip-ke-betong-ahad-19-06-2011-lusa
Now, I can't read whatever that language that is, but the bloke with his hands in its trouser has nothing similar with model railroads as far as I can think.
So, hoping this was something 'on the edge' I did some looking around on the site if this was just an exception. But it was not...
This one was on the topic "Are videos hard to do?". Notice the last 'similar topic'
And this one was on the topic "Great (and long) Garden Railway video". Notice the first 'similar topic':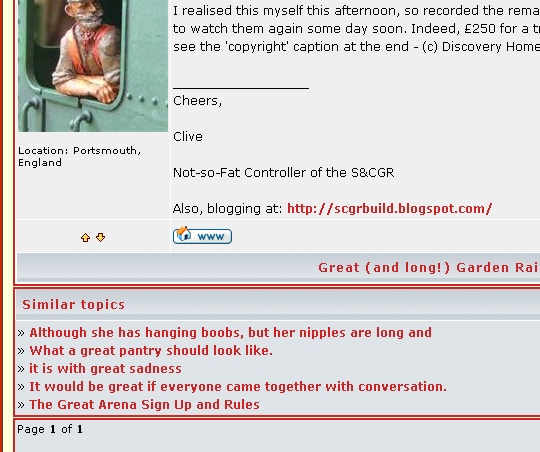 I think the 'similarity' is just to be found in keywords in the topic title. If this is indeed the case than we have lots of shady keywords in our topic titles (like: models, modeling, photo, picture, movie, video, large and even live steam) that trigger this sorts of links.
But even if we are very cautious on how we put things in the topic title you can see in example 1 (RailExpo 2011) that even a normal year number comes up with a doubtful link...
So perhaps it is indeed better if you could switch it off. I would not miss it(watch it; I wrote "miss"... what will show up now!?).
Oh, BTW... about the last 2 examples, I don't think Clive had anything to do with it, that just a coincident I guess
Paul