I really think you're on a great wind up.
Either that or you risk losing your credibility on this forum.
Before going any further have another look at the first part of the last film that I posted and see what my hand is doing with the copper pipe after the engine had been running for 5 mins or so. NO HEAT.
Thanks for the chemistry lesson but I did mess about with
'black powder'
at school. The low
temperatures
and amounts of chemicals involved in running a tiny nitro engine are minimal to cause any reaction.
I have never seen or heard of any copper (II) oxide produced in all my years of modelling.
To produce this substance you need a blast furnace or very strong chemical reaction. And then to be harmful it needs to react with other chemicals and/or be heated
not luke warmed
.
Just for other people reading and not be scared off:
Have a look on the many RC forums about the use and safety of running nitro engines.
And the discussions and experiences of ordinary people operating them and their real life safety concerns.
The only metallic chemical reactions noted with glo plug engines is rust due to residual water in the fuel.
Nitro fuel is harmful and the exhaust can be unpleasant and irritating to some.
Do you really think they would hold such large indoor shows such as the International Salon de Maquettes with scores of large engines running together if there was any risk of geranium
poisoning?
A bit of more useful information:
A typical nitro car type engine should run at between 93 and 104°C (200-220°F) and if really leaned for racing perhaps at 115°C (240°F).
The Green Monster runs at about 88°C barely hot enough for a decent cup of tea.
These are cylinder head temperatures measured at the glo plug.
I'll leave you with these pictures of Bob Pope's amazing machine complete with beautifully crafted
copper
'boiler' exhaust silencer.
As far as I'm aware there were no evacuations at Diamonhead and no subsequent deaths.....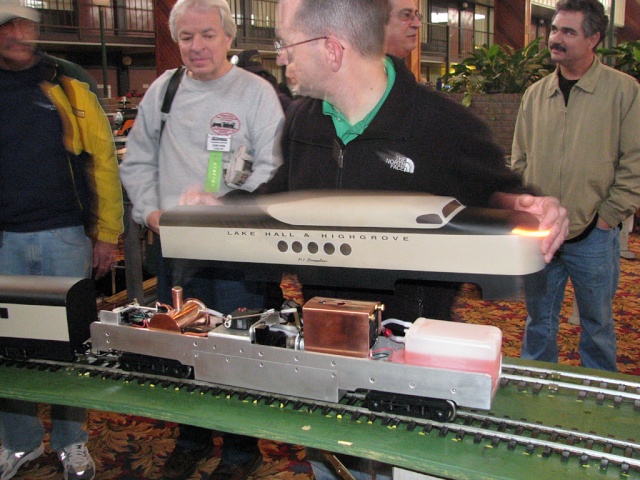 ....and a close up: